Juvenile rheumatoid (idiopathic) arthritis
Juvenile idiopathic arthritis (JIA)
Juvenile idiopathic arthritis (JIA), sometimes called juvenile rheumatoid arthritis or juvenile chronic arthritis, is a childhood disease that causes inflamed, swollen joints that are often stiff and painful. Symptoms common to all forms of JIA include joint pain, a disturbance in the way a child walks (abnormal gait), and joint stiffness that lasts longer than 1 hour in the morning.
The cause of JIA is not well understood. Most experts believe it is caused by a combination of factors, including an overly active immune system.
There are several types of JIA. Each type is based on how many joints are affected during the first 6 months of active disease, whether the child has other symptoms, and which parts of the body are affected.
Oligoarticular JIA (oligoarthritis) is the most common type of JIA. In this type, 1 to 4 joints are affected in the first 6 months of the disease. If 4 or fewer joints continue to be affected, it is called persistent oligoarthritis. If more joints become affected after 6 months, it is called extended oligoarthritis.
Polyarticular JIA (polyarthritis) is the second most common type. Children with this type have 5 or more joints affected in the first 6 months of the disease.

If an antibody called rheumatoid factor is present in the blood, the polyarthritis is rheumatoid factor-positive (RF-positive).
If the rheumatoid factor antibody is not present, the polyarthritis is rheumatoid factor-negative (RF-negative).

Systemic JIA can cause whole-body symptoms, such as fever and rash.
Enthesitis-related JIA can affect joints and also entheses (the areas where tendons and ligaments attach to the bones).
Psoriatic JIA can combine joint pain and swelling with a skin condition called psoriasis.
A few children are said to have unclassified JIA. This means that their symptoms and past health do not exactly match any of the other types of JIA.
Several types of JIA can also include serious eye inflammation.
Symptoms
What are the symptoms of juvenile idiopathic arthritis (JIA)?
Children can have one or many symptoms, and although the symptoms come and go, they are long lasting.
Symptoms include:
Joint pain.
Joint swelling.
Joint stiffness.
Trouble sleeping.
Problems walking.
In some cases, these symptoms can be mild and hard for you to see. A young child may be more cranky than normal. Or a child may go back to crawling after he or she has started walking. Your child's joints may feel stiff in the morning. Or your child may have trouble walking.
Children with this disease can also get inflammatory eye disease. This can lead to permanent vision problems or blindness if it's not treated. Eye disease often has no symptoms before vision loss occurs.
Systemic JIA can cause fever spikes and a rash.
Rheumatoid Arthritis Zones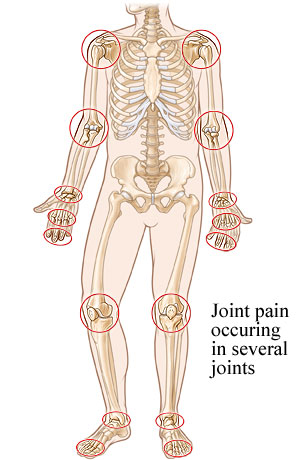 Rheumatoid arthritis often affects small and large joints on both sides of the body (symmetry), such as both hands, both wrists or elbows, or the balls of both feet.
Treatment
How is juvenile idiopathic arthritis (JIA) treated?
Your child's treatment will be based on the type of JIA he or she has, and how serious it is.
Disease-modifying antirheumatic drugs (DMARDS) may be used to prevent the arthritis from getting worse and injuring bones and joints.
Nonsteroidal anti-inflammatory drugs (NSAIDs) to help reduce pain and inflammation.
Exercise and physical therapy help keep your child's muscles flexible and strong.
Occupational therapy helps your child live as independently as possible.
Even when JIA isn't severe, your child may still need long-term treatment. To make sure that treatment is right for your child, work closely with the medical team. Learn as much as you can about your child's disease and treatments. Stay on a schedule with your child's medicines and exercise.
Some children with JIA have no appetite, so malnutrition becomes a medical concern. If your child has little appetite for food, see a registered dietitian for help.
Caring for your child
Caring for your child with juvenile idiopathic arthritis (JIA)
You can do a lot at home to help your child relieve his or her symptoms and prevent JIA from causing problems.
Do range-of-motion exercises.

These help maintain your child's joint range and muscle strength. They also prevent contractures. You may need to help an infant or younger child do the exercises.

Find a balance between rest and activity.

Your child may need extra naps or quiet time to rest the joints and regain strength. But too much rest may lead to weakness in unused muscles.

Follow a medicine schedule.

An older child may find it easier to remember to take medicine by using a pillbox or chart for a day's or week's worth of medicine.
Ask your doctor if the dose can be adjusted so your child can take it at times that are most convenient and won't make him or her feel "different" from others.
To avoid stomach upset, you can also give nonsteroidal anti-inflammatory drugs (NSAIDs) with meals or a small snack.

Use assistive devices.

These can help your child hold on to, open, close, move, or do things more easily. Devices include Velcro fasteners and enlarged handles. Getting your child lightweight clothing and toys will also help.

Make sure that your child sees the doctor regularly.

Your child should also have eye exams with an ophthalmologist. Inflammatory eye disease can develop as a complication in children with JIA.

Help manage your child's stiffness.

Apply heat to stiff and painful joints for 20 minutes, and repeat as needed. You can use hot water bottles. Or make hot packs from towels dipped in warm water or wet towels microwaved for 15 to 30 seconds. Always make sure that hot water bottles and hot packs aren't too hot for your child's skin. Keep a cloth between the hot water bottle and your child's skin. Don't use heat if your child's joints are red and warm.
Many children who have JIA have less stiffness in the morning if their joints are kept warm during the night. To help keep joints warm, try footed pajamas, thermal underwear, a sleeping bag, a heated water bed, or an electric blanket.
Encourage your child to take a warm bath or shower first thing in the morning. It can help ease stiffness. Have your child stretch gently afterward.
Give morning medicines as early as you can, with a snack or breakfast, to prevent upsetting an empty stomach.
---
Copyrighted material adapted with permission from Healthwise, Incorporated. This information does not replace the advice of a doctor.