What is a sprain?
A sprain is an injury to the tough ropey fibers (ligaments) that connect bone to bone.
Symptoms of a sprain may be mild or severe, and they may sometimes be mistaken for a broken bone (fracture) because some injuries can cause a sprain and a fracture in the same area.
First-degree sprains stretch the ligaments but do not tear them. You may have mild to moderate swelling and pain but the joint is stable, does not feel loose or wobbly, and you are able to move normally (although it is likely to be painful).
Second-degree sprains partially tear the ligaments. You may hear or feel a pop or snap at the time of the injury. Moderate to severe pain and swelling may restrict your movement. The joint may look bruised and you may have mild to moderate joint instability.
Third-degree sprains completely tear the ligaments. You will usually hear or feel a pop or snap at the time of the injury. Mild to severe pain, swelling, and bruising may be present. Symptoms are sometimes less with a complete tear than with a partial tear. Your joint will feel loose or wobbly and you may hear a grating sound when you try to move the joint. A bulge may appear at the site of a complete tear. Change of sensation, such as numbness or tingling, may be present.
Treatment for a sprain includes rest (immobilization), ice, compression, and elevation. While a minor sprain will often heal well with home treatment, a moderate to severe sprain may require medical evaluation and treatment with a cast or splint, physical therapy, medicine, or surgery. Recovery time for a sprain varies depending on a person's age and health and the location and severity of the sprain.
Symptoms
What are the symptoms of an ankle sprain?
People usually feel immediate pain at the site of an ankle sprain. Often the ankle starts to swell right away and may develop bruising. The affected area is usually tender to touch. It may feel "wobbly" or unstable.
In a mild sprain, swelling usually goes down within a few days.
How bad your symptoms are usually depends on how much tearing has occurred. In more severe sprains, you are often not able to walk or even put weight on your foot. Your ankle may feel unstable. You usually have extreme pain at first, but some people start to feel better fairly soon. You may also hear or feel a tearing sensation and a pop or a snap.
If a sprain doesn't heal correctly, your ankle joint may be more likely to be injured again or the pain may not go away. This often occurs with even a slight trauma, such as stepping off a curb or walking on uneven pavement. Some people complain of lasting pain and swelling.
Types of Ankle Sprains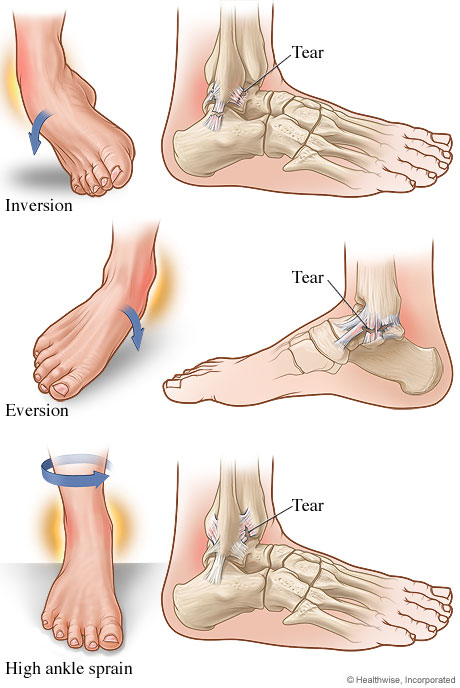 An inversion injury is the most common cause of an ankle sprain and occurs when the ankle rolls outward and the foot turns inward. It results in stretching and tearing of the ligaments on the outside of the ankle.
Less commonly, the ankle rolls inward and the foot outward in an eversion injury, damaging the ligaments at the inside of the ankle.
The high ankle sprain is the least common. It can happen when the foot is forced to rotate toward the outside (away from the other foot), or when the foot is planted so it can't move and the leg is rotated toward the inside.
Diagnosis
How is an ankle sprain diagnosed?
Your doctor will ask you when and how the ankle sprain occurred and if you've hurt your ankle before.
Next, your doctor will examine your foot, ankle, and lower leg and even your knee to see if any other injury occurred. He or she may ask you to move your foot up and down and to take a few steps if you can. Your doctor will then carefully try to move your foot and ankle to see if the ligaments are intact and what movements cause pain.
If your sprain is mild, you may not need an X-ray. If your sprain is more severe, you may need X-rays. X-rays can help your doctor find out if you have any ligament tears, broken bones, or bones that have moved out of their normal positions.
X-rays are often taken for children because of possible injury to the bone's growth plate. Damage to the growth plate can cause problems with normal bone growth. Doctors may take X-rays of both ankles to compare the injured ankle with the healthy one.
Treatment
How to Wrap a Sprained Ankle
---
Copyrighted material adapted with permission from Healthwise, Incorporated. This information does not replace the advice of a doctor.